Here's the background on
Gypsy Lou
When you want to rock, you can count on the Gypsy Lou Band!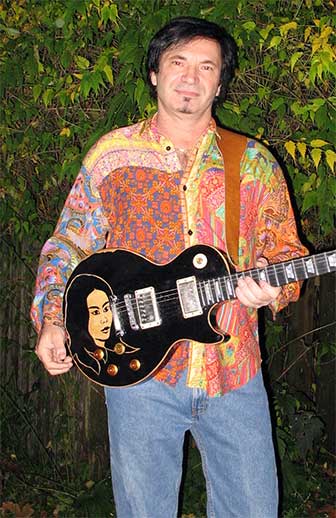 Guitarist/vocalist/band leader Gypsy Lou Szepvolgyi, a native of Hungary, is recognized as one of the top guitar players in the NW region of the U.S.
Through his career, Gypsy Lou has performed with some of the top names in the music world, including: The Legends of the Blues, Pinetop Perkins, Willie 'Big Eye' Smith, Hubert Sumlin, Rusty Zynn, as well as numerous gigs with The Blues Cousins.
Lou has also played with Nigel Mack's Blues Attack, Kathy McDonald, the Blues Orbiters, Stickshift Annie, Raven Humphrey, Evan Johns, Nightsticks and many more.
Lou's scorching lead guitar work and vocal leadership has left audiences enthralled wherever he has appeared in both the U.S. and Europe. Gypsy Lou has been a regular at the Mt. Baker Blues Festival, with both his band and as a special guest.
Under his leadership, the Gypsy Lou Band offers a wide variety of musical styles, including traditional blues, zydeco, classic renditions from the British Rock invasion and more.
Wherever he goes, Gypsy Lou is well received for the international flavor and professional bandsmanship he brings to the stage and the other musicians he appears with. He has sacrificed more than most in his pursuit of playing music, as is related in a feature article about him from a newspaper in the region where he lives.
Gypsy Lou also makes a point of helping people in need through his musical ability. In addition to clubs, weddings, festivals and international shows, Lou makes a point to give back to those less fortunate through his music. In recent years Gypsy Lou has offered his talent at a number of benefit events, including those shown below.
Keeping the Blues Festivals Alive
2nd World Music Festival, Nakhon Sawan, Thailand
Benefit for Agape House Shelter for Women and Children
Youth Crisis Hotline Benefit (with Darrell Mansfield)
Benefit for Sudan
Into Africa Benefit
Take a cruise around our website to get a feel for the type of music we offer. If you'd like to reach us, please contact us via email or by using one of the other traditional methods shown below.

PO Box 667
Bellingham, WA 98225
Phone: 360-738-9610