We had a great time at the
2nd World Music Festival
in Nahkon Sawan, Thailand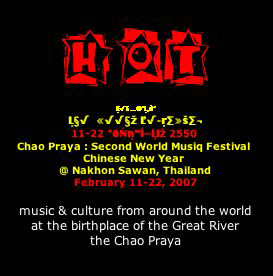 In early 2007 the Gypsy Lou Band was invited to perform, in conjunction with Todd Tongdee's Chinese New Year's Festival concerts, in Nahkon Sawan, Thailand. At this international music festival, we represented the U.S. form of music known as 'Cajun.'
In addition to our two Cajun music performances, which we sprinkled with the Blues for which the Gypsy Lou Band is so well known, Gypsy Lou also was asked to play and sing on acoustic guitar some of the 'forbidden' ballads from before the Hungarian revolution. Gypsy Lou defected prior to the revolution, and these were songs of freedom that were officially not allowed to be played... but which all young musicians in Hungary in that era knew.

The performances were an enormous success, as we played music the Thai listeners had never heard before. The music was well received, as were the 20+# of Mardi Gras beads we took over to throw to the audience. Since the concerts took place just before Valentine's Day, the men especially tried to do whatever it took to get strings of beads they could give to their wives and girlfriends for a special Valentine.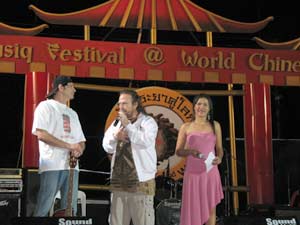 During the days we were at the concert site, we were fortunate to meet and spend time with incredible musicians from around the world, as well as some of the top names in the Thai music scene. For this series of concert engagements, Gypsy Lou was joined by the well known U.S. rubboard player (a special instrument used just for Cajun and Zydeco styles of music), Ranger Kidwell-Ross.
Since Gypsy Lou spends some of his winter months in Thailand, plans are in process for appearing at more festivals in that great country in the future. We have two slideshows of photos taken from the Nakhon Sawan Festival. Click here to take a look at our pictures, or you can take a look at the ones Todd Tongdee's camera team provided for us.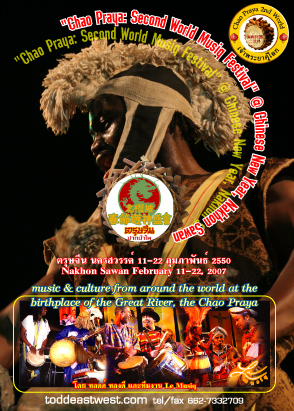 The Gypsy Lou Band offers a wide variety of musical styles, including traditional blues, zydeco, classic renditions from the British Rock invasion and more. For booking and other information, please send us an email.

PO Box 667
Bellingham, WA 98225
Phone: 360-738-9610